NORTHDALES KILLER CAYENNE  🌶
*In Partnership with Mandy Griffith*
This boy is stunning! Gorgeous Mahogany coat, heavy bone, just look at him…
Cayenne is a gentle "Old Soul" who just wants to be loved! His favorite thing in the world is SWIMMING and he is exceptionally good at it.
Cayenne enjoys the company of the Lady dogues and in true gentleman fashion he let's them win every game. He lives for Belly rubs and his favorite Stuffed animals, which he protects and carries around.
We couldn't ask for anything more in a Dogue, this boy is Special!
Huge THANK YOU to our Dear Friends Mandy and Eric for sharing this wonderful creature with us ❤️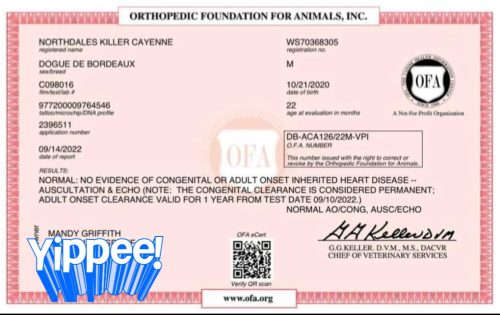 Reg Name Northdales Killer Cayenne
Sire: Nemo Dardania Domus
Dam: Furia Bomb Boogie
Whelped: 10/21/2020
OFA Advanced Cardiac Normal
Call Name Cayenne 🌶
Pedigree of " Northdales Killer Cayenne"

Parents
GrandParents
GreatGrandParents
SIRE

Nemo Dardania Domus

Lenoir Du Clos Des Malicieuses
Hollister Du Clos Des Malicieuses
GTI Du Clos Des Malicieuses
Nancy Nanny Quantum Libet
UTT Cooper z Orisku
Betty
DAM

Furia Bomb Boogie

Dog's-Land Durand
Rozeldogue Up beat Tempo
Dog's-Land Aqua
Charisma Bomb Boogie
Brando Avakara
Concento Anima Infanta